Do you remember student teaching? Of course you do! The stress, the fear, the lesson planning!! How did you ever survive? Hopefully, with a great master teacher to guide you! As current baby boomers retire, the demand for trained, quality language teachers will continue to increase. You can be an integral part of the valuable training a new teacher needs – and deserves.
What does being a master teacher involve, and why should you do it?
How long will the student teacher be with you? Student teachers typically observe one semester and teach one semester. Requirements vary by program. CSU Fullerton candidates spend an entire academic year in their assigned school. CSU Long Beach has students do observations in different classrooms for two semesters and then student teach for a semester. Candidates at both schools teach three classes, with two different preparations. Candidates at UC Irvine observe for a quarter and then spend two quarters in their teaching assignment. They teach two classes of the same preparation and also do a "literacy placement", working in an EL or reading classroom alongside a regular teacher.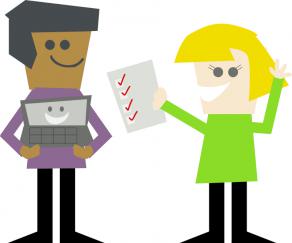 What is your part? You will work daily with a student teacher, providing guidance throughout the semester. Depending on the student teacher's preparation and confidence, he/she may take over the class immediately, or you might co-teach for several weeks. After four weeks, it is expected that the student teacher is teaching the class daily. Student teachers typically need help preparing lesson plans at the beginning of the semester, with a gradual release of responsibility until he/she is doing all the planning. You observe and provide constructive criticism throughout the semester.
So – why would you want to do this?
Because it's really rewarding! This is your chance to give back to the next generation of teachers. Your face-to-face interactions are far more valuable than anything learned in a university classroom.
Having a student teacher is the professional development you give yourself. Knowing that someone is watching you and looking to you as a role model will sharpen your skills. You will think about activities you do and reevaluate how they fit into your program when you have to explain them to someone else. And helping a student teacher plan makes you really look at the "big picture".

The best activities come from collaboration! You and your student teacher will have a chance to be creative, and your favorite activities will be passed along to someone who will use them and share them. You will impact students exponentially for years to come.
The perfect new hire! If your school needs a new teacher, who could be better than someone who really knows your school culture and has proven him/herself as a dedicated professional? And you may make a lifelong friend. Go for it!!
Contributed by team member Shari Kaulig
About the author…
Former Los Alamitos High School teacher Shari Kaulig recently retired from 39 years of classroom teaching. She has taught education classes at UCI and CSULB and is currently supervising student teachers at CSULB. She is also Assistant Director of the COACH Foreign Language Project.