I was travelling on a rail pass and wanted to visit the small German town of Detmold so I could see the Arminius memorial and falconry center there. Arriving on Saturday afternoon from Cologne, I figured I could find a room in a small hotel or bed and breakfast. Little did I know that there was a dentists' convention in town, and every room in town was taken.
After walking through the entire town, I decided that the only thing to do was go back to the station, catch a train, and spend the night travelling. I turned into Bahnhofstrasse (Station Road) just in time to see the Station Master locking the doors. I had missed the last train out of town. Briefly I considered spending the night in the park, but I had neither a tent nor a sleeping bag, and the night was cold and rainy. I sent up a prayer, "Okay, Lord, what do I do now?"
Then I remembered that I had seen some people working in one of the businesses I had passed. Figuring they were employees of the travel agency on the ground floor, I returned to the basement room that contained several employees working diligently on what I thought was a new ad campaign. It wasn't and they weren't. They were a group of local politically active locals who were working on their monthly newsletter; they met once a month, and I "just happened" to be in town on the one night a month that they met.
After I had explained my plight, they called around but couldn't find any rooms, either. Finally one of the men said that he owned a Pension (guest house) in the next town with one room empty for the weekend. It was mine if I wanted it. Of course I wanted it. Then I stayed and chatted while they worked. When they had finished a couple of us went to one of the local pubs, where we sat and chatted some more.
My benefactor drove me to the guesthouse and said we could settle the bill on Monday before I left. He needed to return to Detmold on Sunday and volunteered to drop me off at the Arminius memorial; I could walk from there to the falconry center and then catch a bus back to town, meet him and return to the Pension for a second night.
On Sunday morning we drove up the hill to the memorial, and I discovered that had I been on my own I would not have made it on a Sunday because there was no bus service to the memorial. I had a nice time seeing the 19th-century memorial to the German leader who defeated the Roman army at the Battle of Teutoburger Forest in 9 CE, thus ensuring that the Romans never conquered the area of "Germania" east of the Rhine. Even better was the visit to the falconry center where I was able to watch demonstrations of falconry and "talk shop" with the falconers, even getting to go into the backstage area for a private tour. (I'm a falconer, so this was a "professional courtesy".)
When I had finished my sightseeing, I caught the bus back to Detmold and met my benefactor. As we were returning to the Pension, I mentioned that I was leaving early the next morning and wanted to settle the bill that night. My host replied that he often travelled and had people show him kindness, so the two nights and breakfast were his gift to me. He even offered to fix me a breakfast to go since I would be leaving before the regular breakfast time on Monday morning.
All of this happened many years ago, and I still try to pay it forward to fellow travelers.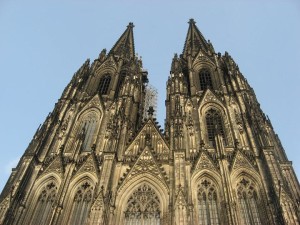 Contributed by COACH Team Member Robert Harrell