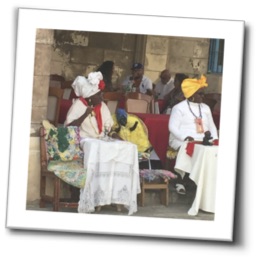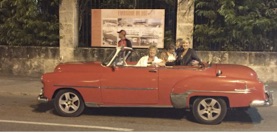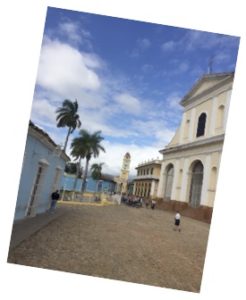 January of 2017 I went on a seven-day cultural tour with Cuba Explorer. Our fabulous guide Rosie greeted us and took us to the Hotel Presidente, built in 1927 and remodeled in 2000. We tasted our first mojito in the Plaza Vieja in old town Havana. One evening we enjoyed the amazing group La Buena Vista Social Club in the plaza and danced and sang Cuban music all night long!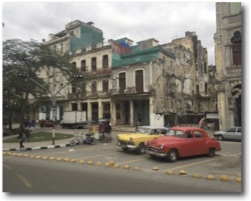 I was very impressed by our tour of the eco-community of Las Terrazas in the countryside outside of Havana called Buena Vista. It has a view of the entire valley and ocean because it's located in the narrowest part of the island. It was originally a coffee plantation owned by the French when they had slaves to work the fields. One thousand people live in this community now, and many of them received free housing to settle on the river. They were called the "believers".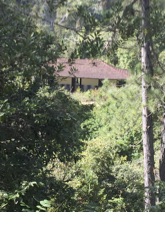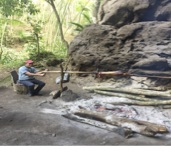 We ate typical Cuban food cooked on a wood-burning stove at La Casa del Campesino surrounded by roosters and peacocks. They served chicken, pulled pork, black beans, sweet potatoes, starfish and mango pudding. My favorite restaurant was in Alamar where Hemingway lived in the 40's and 50's. He watched the fisherman in the village Cojimar for his inspiration for "The Old Man and the Sea". This organic restaurant, Ajiaco Café, had the best mojitos (dark rum and honey) and their renowned Ajiaco soup.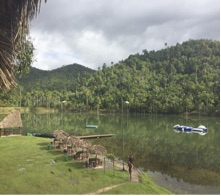 We left Havana for a few days on a 5-hour bus trip to visit Cienfuegos and Trinidad. The transportation in the countryside consists of horse drawn buggies, bicycles, and old cars. Trinidad is a beautiful colonial city, founded in 1514. It reminded me of Antigua, Guatemala, and San Miguel de Allende, Mexico. There are lots of artisans and painters that sell their paintings and handicrafts in the city. Topes de Collantes in the Escambray Mountains was our next adventure from Trindidad.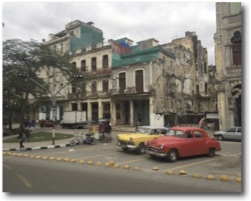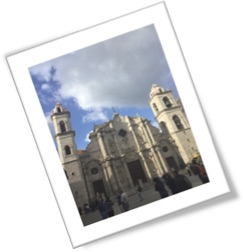 We took an old Soviet truck up the narrow and muddy paths to the top. It was quite a scary ride, but well worth it. At the Hacienda Codina we had a fabulous tour of the flora and fauna surrounding the area and the medicinal uses of many of the plants there. Afterwards we had an organic meal with a suckling pig that was roasted on a wood spit by hand for 8 hours! The lunch was fabulous with fresh vegetables and fruits.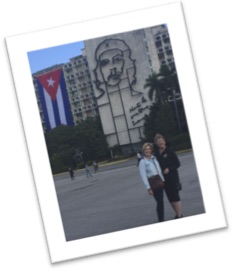 An amazing trip to Cuba! One that I highly recommend to anyone interested in a once in a lifetime cultural experience.
Interesting facts:
Cuban rations include 5 lbs. of rice and beans per person monthly. They cannot produce enough so they are the biggest importers of rice in the world.
Education and Medical is free, housing is free per family.
Birthrate has dropped in Cuba, but divorce is 50%.
The antique cars are mainly used as taxis in Havana.
Bacardi rum (made in Puerto Rico) is not allowed in Cuba. They only use Havana Gold rum that is made in Cuba.
Their money is called CUCS, short for Cuban Convertible Peso.
There are no fast food restaurants in Cuba–no MacDonald's, Pizza Huts, etc.
The few billboards in the cities are small and only for political messages.
You can bring back Cuban cigars to the US now, however there are so many brands, so you will need some help.
Contributed by team member Gayle Trager