Squeals of pure joy as the mist from the Magic Fountain drenches us on a warm, perfect night in Barcelona. A look of sheer bliss as my favorite student savors his new favorite food – jamón serrano. Wide-eyed wonder (and a few tears) as sweet teenage girls come face-to-face with Van Gogh in the Musée d'Orsay. If you've never traveled with students, this is what you're missing.
Yes, travel with students is demanding and exhausting, but well worth it. Let's face it – foreign travel on a teacher's budget is difficult, and traveling with students lets you travel even if you're at the low end of the salary schedule. Plus, it's so rewarding to watch the students you work with all year use their language and discover culture in a way you can never duplicate in the classroom. Here are a few tips for getting started:
Find a reputable company. For your first few trips, let the pros do the work for you. You probably get brochures and calls all the time from educational travel companies. Call them and ask for references, and also ask around. Many COACH teachers have traveled with students, and a simple request on the COACH Facebook page will yield lots of advice. Make sure to ask these questions:
a. Is the price inclusive, or are there add-ons? When something is listed as optional, that means there is an extra charge. Did the price increase after students had paid their deposits?
b. How likely is it that the itinerary will change? Many companies put groups together, and if you are the only group selecting your itinerary, they will likely ask you to change.
c. Are the hotels centrally located, or will you have to travel by public transportation daily to see major sites? This is a waste of your time. Hotels should be located within walking distance of at least a few major sites. We once stayed in Barcelona in a dorm that was a 40-minute metro ride to anywhere. It was hot, and if we went back to rest, the students didn't want to go out again. You're not traveling to sit in a hotel or dorm room!
d. How is the food? Are you always eating in hotel restaurants and/or budget chain restaurants? I never liked Spanish food until we began choosing our own restaurants. Now I know that we just had bad food.
e. What is the educational content of the program? Does the company provide a knowledgeable tour guide who can explain attractions in an engaging, interesting way?
f. How many chaperones are allowed? For safety's sake, the company should allow one chaperone for every 6 – 8 students. Any more, and you are going to be exhausted. It's your vacation, too.
Remember that while a company's low price might look attractive, you get what you pay for! Sometimes it's worth it to pay a little more for quality. Once you have a few trips under your belt and feel comfortable leading students, you might want to arrange your own trip. It's a lot of work, and takes excellent organizational skills, but you can do more for less, because you're not paying a middleman. After all, tour companies are businesses. With planning, a good travel agent for flights, and the right contacts, you can create a wonderful trip for you and your students. But why not get started the easy way? All it takes is a few phone calls and a little exploration. And don't forget to ask for school approval before approaching students!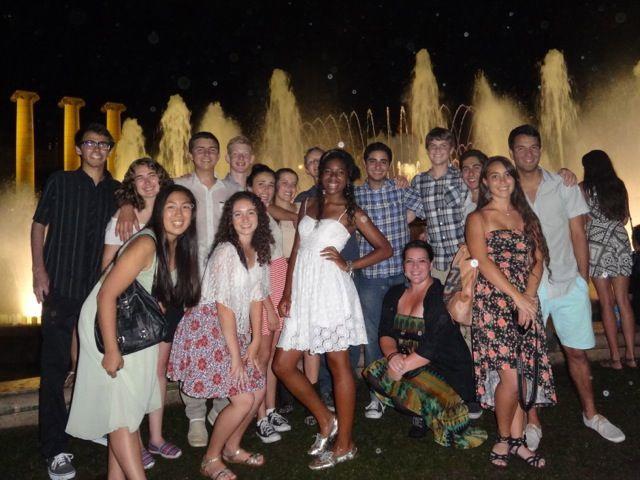 About the author…
Former Los Alamitos High School teacher Shari Kaulig recently retired from 39 years of classroom teaching. She has taught education classes at UCI and CSULB and is currently supervising student teachers at CSULB. She is also Assistant Director of the COACH Foreign Language Project.